We are always looking for quality players.
To arrange a Tryout at any point in time, please contact Dani.
Every player needs to mail in the Tryout Form and 15$ cost for a tryout.
---
All players are welcome. You don't have to be a Select player in order to participate.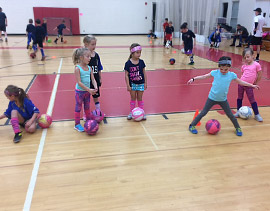 Next Foot Skills at Hawken
Please mail Registration and Payment to the Clubs address. First come first serve.
•
Cleveland Select Finishing Class, Mini Lyons Class, Goalie Class Registration
;
Classes description:
-
CS Foot skills Classes
- 60 minutes class will concentrate on the player's technique.
-
CS Finishing Class
- we teach the correct technique to strike the ball. Easiest way to score goals , is by striking the ball. Goals change the mod of the players and the outcome of the games.

-
CS Goalie Class
- these classes will concentrate on : safe/correct technique for diving, using the correct technique to catch the ball, distribution ( hands and kicks) , second reaction to shots, communication with your team, dealing with crosses and angles, shot blocking
-
CS Mini Lyons
- Soccer Program for 5 to 8 years old, Girls and Boys. Program is design to help young players understand the game of soccer and develop love for the game. We use small sided games as the main tool to teach the game.
Cleveland Select Premier Soccer Club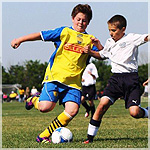 The
Cleveland Select Premier Soccer Club
was establish in the Spring season of 1995.
Dani was the only coach at the time, and we were accepted in the North Coast Amateur League, which was located at NC Hudson and Lodi at the time. The Clubs colors where picked as yellow and royals, as not too many clubs had those colors at the time. Plus, were the Romanian national colors, so it was very easy to decide.
Neil Baltes, was the first coach, that the Club hired, and he was very influential and helpful in the Club's philosophy and development. Dani and Neil become very good friends, through the process.
Today the club, has teams from U8 to U18 girls and boys.
Awards & Cups
U11 Boys
U12 Boys
U11 Boys South
Champions at Erie Elite Cup
Champions Copley Tournament
Louisville Soccer Tournament Champions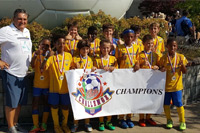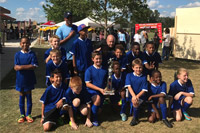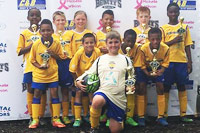 U11 Boys East
2004 Boys
U13 Boys
in Ravenna
State Cup Semi - finals
Champions at Internationals Tournament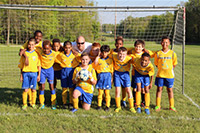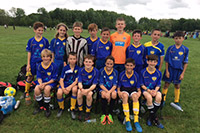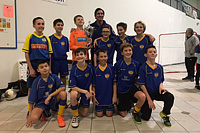 Please support our sponsors