Thank you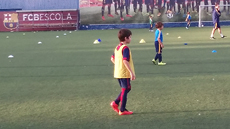 Jan. 30, 2016 / By Ricard Corcelles
Ben,
Hope this email finds you well and things are going ok for you.
Just wanted to keep you updated about my son Bernat (Messi).
He did the tryout for Barcelona FCB in September 2015. The club did really like him.However, Bernat prefered to play soccer at his elementary school and not enroll with FCB. My feeling is that he missed Cleveland Select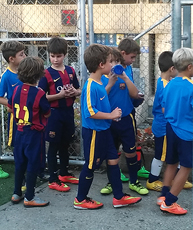 coaches and was a little bit lost during the tryout. Let's see what he wants to do in the near future…
Let me know if you plan to visit BCN.
Tell my regards to coach DanI.
Best,
RICARD
Ricard Corcelles
Dealing With Lopsided Games
Tuesday, Jan. 17, 2012 / By Ian Plenderleith
The parents of the girls U16 indoor team screamed at every shot and wildly cheered at every goal. Their players and all three (yes, three) coaches did the same. The more they scored, the more excited they seemed to be at beating a clearly inferior side. I was coaching that inferior side, and had loudly remonstrated with my counterparts when one of their players had scythed through my best forward, leaving her in a crying heap on the turf, too hurt and upset to take any further part in the game. It was the most brutal of countless overly physical challenges from a team clearly coached to play in what can kindly be called a 'robust' fashion.
One coach shouted back at me that his player - who was yellow-carded, though she should have been dismissed - had played the ball (where have we heard that one before?). It was this regrettable verbal exchange between the coaches that prompted our opponents to ramp up the cheering, but by that point I was only concerned that we end the game with no further injuries. At the final whistle (result: 7-1), I refused for the first time in five years of coaching to shake hands with the opposition coaches and, rightly or wrongly, suggested to my players that they likewise abstain. The opposition parents booed me out of the arena.
As a coach at youth level, you often come across the problem of lopsided games, and winter indoor soccer especially can throw together teams of vastly differing caliber. This is not necessarily a bad thing, and there are lessons to be learned from both severe beatings and easy wins.
When my teams are losing heavily, I don't expect or even wish for mercy from superior travel teams. Instead, after pointing out the positive aspects of our performance, I will ask my players what they noticed about the team they just played and lost to. For example, did they see how the opposition players always moved for the return ball after passing it? Did they hear how well they communicated? Did they see how closely the defenders stayed on their mark? How fit the other team was, and how they didn't tire? Were their opponents born with good technique, or did they play well because they train at least a little bit every day? Playing quality opposition can show young players the rewards of dedication and practice, rather than destroying their confidence.
My teams have also been in the position of playing far less gifted opposition, and it's important for coaches to distract their players from the scoreboard after the fourth or fifth goal. Now is the time to try your defender as a striker, or see if the tall midfielder might shape up as a back-up goalkeeper. Instruct your players to see if they can keep possession for long periods, and perhaps only shoot once they have made five passes (if you're coaching boys, you'll hear some protests at this one). Tell them to continue to respect the opposition, and not to celebrate overtly if they score. Emphasize that this is a good chance to practice using their left foot. Play short by one, two or even more players in order to make the rest of the game something of a challenge.
These all sound like obvious points, but it's astonishing how rarely you see them put into practice. The team mentioned at the start of this column was full of talented players, and had no need at all to intimidate my team or kick lumps out of them to win. The failure of their coaches to recognize the skills gap and adjust their tactics accordingly lead to an acrimonious game that taught the players nothing positive about soccer and how to play it.
The values of the grown adults madly cheering their daughters on to a cakewalk victory, or the coaches who spent the entire game screaming instructions at their players, are arguably topics for another column. But my concern is that a bilious sporting environment can be used to influence tomorrow's adults into thinking that foul play, constant shouting, and beating on weaker opponents are virtues that lead to success.
As coaches, we should use one-sided games to suggest to young players that in defeat there can be both dignity and room to learn, and in victory there should be respect and restraint. Most importantly of all, that sportsmanship and fair play are of far greater importance than a 10-0 scoreline.
(Ian Plenderleith is a soccer writer who also referees and coaches the game at youth level. He is also the author of a book of adult-oriented soccer short stories, "For Whom The Ball Rolls.")
What Teachers Really Want to Tell Parents
By Ron Clark, Special to CNN
This report from CNN in September 2011 also could be titled "What Coaches Really Want to Tell Parents."
This summer, I met a principal who recently was named the administrator of the year in her state. She was loved and adored by all, but she told me she was leaving the profession.
I screamed, "You can't leave us'" She quite bluntly replied, "Look, if I get an offer to lead a school system of orphans, I will be all over it, but I just can't deal with parents anymore; they are killing us."
Unfortunately, this sentiment seems to be becoming more prevalent. Today,new teachers remain in our profession an average of 4.5 years, and many of them list "issues with parents" as one of their reasons for throwing in the towel. Word is spreading, and the more negativity teachers receive from parents, the harder it becomes to recruit the best and the brightest out of colleges.
So, what can we do to stem the tide? What do teachers really need parents to understand ?
For starters, we are educators, not nannies.We are educated professionals who work with kids every day and often see your child in a different light than you do. If we give you advice, don't fight it. Take it, and digest it in the same way you would consider advice from a doctor or lawyer. I have become accustomed to some parents who just don't want to hear anything negative about their child, but sometimes if you're willing to take early-warning advice to heart, it can help you head off an issue that could become much greater in the future.
Trust us. At times when I tell parents that their child has been a behavior problem, I can almost see the hairs rise on their backs. They are ready to fight and defend their child, and it is exhausting. One of my biggest pet peeves is when I tell a mom something her son did and she turns, looks at him and asks, "15 thal true?" Well, of course it's true. I just told you. And please don't ask whether a classmate can confirm what happened or whether another teacher might have been present. It only demeans teachers and weakens the partnership between teacher and parent.
Johan Cruyff, speaking with Rob Draper
Johan Cruyff, speaking with Rob Draper of the UK's Daily Mail, recounted seeing Pep Guardiola for the first time --shortly after Cruyff had been named Barcelona coach and Guardiola was a "scrawny teenager" in Barcelona's youth team
The Barca youth coaches told Cruyff that Guardiola was "one of the best."
But over the next year, the Dutchman said he looked for Guardiola in the reserves and didn't see him:
"So then I looked at the first youth team, and he didn't play in that team. And eventually I found him in the third youth team.
"So I said to the coaches, 'You said he was the best one!' And they said, 'Yeah, but physically …' I said, 'Put him there (in the reserves). He will grow. Don't worry, everybody grows.' And they said, 'Yeah, but we will lose.' I said, 'If we lose, we lose. We need to create players.' And he did very well."
With Guardiola as playmaker, Barcelona won six La Liga titles and the European Cup.
"The people who control the ball very well, they're the most important players," Cruyff said. "And weak, smaller players, to survive they had to have a better technique than the others. Normally everyone grows -- some a little later, some at different times, but everybody grows. A lot of things will change but the base of soccer is always technique, always should be technique."
Now in his fourth year as Barcelona's coach, Guardiola's titles include two European Cups, three La Liga titles, a World Club Cup and the Spanish Cup -- with a team famous for 5-foot-7 stars Leo Messi, Andres Iniesta and Xavi.
Xavi - Spanish International and Barcelona's General
His Words on: Technical Ability. Passing. Vision. Development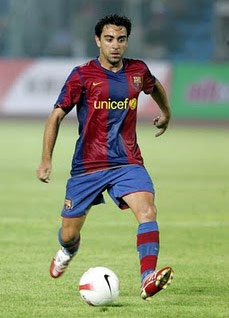 Summer is a great time to take a quick break from organized soccer and think about your technical development. What do the following words from Xavi mean to you? Whether you are a young player, old player, novice, elite, parent or coach - There is something here for you!
[Excerpts from an interview with Xavi by the Guardian]

"Some youth academies worry about winning, we worry about education. You see a kid who lifts his head up, who plays the pass first time, pum, and you think, 'Yep, he'll do. Bring him in, coach him. Our model was imposed by Johan Cruyff; it's an Ajax model. It' all about rondos [piggy in the middle]. Rondo, rondo, rondo. Every. Single. Day. It's the best exercise there is. You learn responsibility and not to lose the ball. If you lose the ball, you go in the middle. Pum-pum-pum-pum, always one touch. If you go in the middle, it's humiliating, the rest applaud and laugh at you.

[At the youth level, of course iSoccer encourages you to compete and win BUT make sure you are not placing winning over development. Developing as a player is a journey - Try and take a longer view and know that the little things you do every day will pay off in the long run!]

Talent has to be the priority. Technical ability. Always, always. Sure, you can win without it but it's talent that makes the difference. Look at the teams: Juventus, who makes the difference? Krasic. Del Piero. Liverpool? Gerrard, or Torres before. Talento. Talento. When you look at players and ask yourself who's the best: talento. Cesc, Nasri, Ryan Giggs - that guy is a joy, incredible. Looking back, I loved John Barnes and Chris Waddle was buenísimo. [Open-mouthed, eyes gleaming] Le Tissier! Although their style was different I liked Roy Keane and Paul Ince together, too. That United team was great - my English team. If I'd gone anywhere, it would have been there.

[As a youth player, you have very little control over your physical attributes - Focus on the playing the game and 'Raising Your Technical Level'. That is the winning formula in the long run!]

Think quickly, look for spaces. That's what I do: look for spaces. All day. I'm always looking. All day, all day. [Xavi starts gesturing as if he is looking around, swinging his head]. Here? No. There? No. People who haven't played don't always realize how hard that is. Space, space, space. It's like being on the PlayStation. If the defender's here, play it there. I see the space and pass. That's what I do.

[The game moves fast - put your head on a 'swivel' at all times. Know where your teammates are. Where the defenders are. And what you want to do with the ball before it gets to you. How do you work on this? Get in front of a wall! Pass the ball while moving towards the wall and look over your shoulder before the ball comes back to you off the wall.]

Club career
Joined Barcelona's youth system at the age of 11 and made a scoring first-team debut aged 18 in the 1998 Spanish Super Cup final. He has made 557 appearances for the club, scoring 56 goals. 3 Champions Leagues 2006, 2009, 2011
1 Club World Cup 2009
5 La Liga titles 1999, 2005, 2006, 2009, 2010, 2011
1 Spanish Cup 2009
4 Spanish Super Cup 2005, 2006, 2009, 2010
1 Uefa Super Cup 2009

International career
Represented every Spain youth team from Under-17 to Under-23 level, making his senior debut in 2000 at age 20. He has scored eight goals in 99 appearances. He has also scored twice in eight matches for Catalonia
1 World Cup 2010
1 European Championship 2008
1 Under-20 World Cup 1999
Olympic silver medal 2000

Individual career
The world's best playmaker, he completed 104 passes more than the next most prolific passer at last year's World Cup which Spain won. He has made more assists than any other player in the past two La Liga and Champions League seasons
European Championship player of the tournament 2008
Champions League final man of the match 2009
Fifa World Cup All-Star Team 2010
Fifa Team of the Year 2008, 2009, 2010
Uefa Team of the Year 2008, 2009, 2010
Third place in Ballon d'Or 2009, 2010
La Liga Player of the Year 2005

Read the Full Article from the Guardian: Click Here

Reinventing the ball
Monday, Feb. 21, 2011 / By Mike Woitalla
It seems to me that playing soccer with different kinds of balls is good for children's skill development. I don't have scientific evidence for this, but a lot of anecdotes from great players.
Pele played with a grapefruit and a sock stuffed with paper when a proper ball wasn't available. Diego Maradona walked to school kicking an orange or crumpled-up paper. Claudio Reyna played one-on-one with his brother in the basement using a Nerf-type ball and kicked against the ball with one of those plastic bouncy balls you find in drug-store bins.
Many trace superb foot skills, especially among South American players, to playing futsal, whose ball is smaller and less bouncy than a regular soccer ball. (Ronaldinho, Robinho and Lionel Messi all played futsal as kids.)
One way to encourage youngsters to juggle is to have them try with something easy, like a small beach ball or even a balloon. Juggling a tennis ball or hacky sack must be great practice.
Balls that are softer than real soccer balls can be great fun to kick around and more practical in some situations, such as on playgrounds and playing indoors. (And obviously preferable for very young kickers.)
The ball that can't do any indoor damage hasn't been discovered, but I've rarely interviewed a successful player who hadn't broken a thing or two in the house while a child.
Among the alternative balls to which I've seen kids take a great liking are the Coop hydro balls designed for water play. They're soft enough to juggle in the house, perfect for barefoot play, and, of course, great to bring to the beach. (Fine for playing catch with in the pool, too.)
The Poof-Slinky company makes foamy soccer balls in two sizes that kids can kick against their bedroom door with minimal racket. The 7-1/2-inch Poof ball has the nice old-fashioned, black-and-white pentagons-hexagons and begs to be dribbled through a hallway, balanced on the foot, or shot at an improvised goal.
Both the Coop and the Poof are less bouncy and easier to control than those red playground balls -- also delightful to kick around -- commonly used for P.E. kickball and dodge ball.
New on the alternative-ball market is the innovative "One World Futbol" -- the super durable, virtually indestructible soccer ball invented by Californian Tim Jahnigen for a very good reason.
Watching a documentary on Darfur refugees, Jahnigen saw children playing with rag balls, cans and boxes. He realized not only did these kids deserve real balls, but ones that would last. (According to the "One World Futbol" web site, 20 million deflated balls are trashed each year in Africa.)
After the January 2010 earthquake in Haiti, relief workers learned that one of the most common requests was for soccer balls. But aid workers also soon saw that regular soccer balls quickly punctured on glass or sharp rubble.
The One World ball never goes flat even if punctured and requires no pump or needle.
It's designed to be distributed to refugee camps, United Nations hot spots, conflict zones and poor villages throughout Africa, Asia and Latin America, and one manner in which the One World balls find their way around the world is through the "Give one, Get one" program. You buy a ball for $40 and another one is donated to a child who can't afford one somewhere else on the globe. (Or you pay $40 and donate both, or $25 to donate one.)
The One World Futbol is similar to a regulation size 5 soccer ball. Although perhaps not optimal for a full-field game when a regular ball is available, it does suit playing pickup games, passing around and juggling.
My panel of 11-year-olds who tested out One World Futbol said -- after futile attempts to prove it destructible -- it juggled similar to a regular soccer ball, they were intrigued by the back-story, and one pointed out, "You can also use it for four-square!"
(For more information on One World Futbol, go to: http://www.oneworldfutbol.com/)
(Mike Woitalla, the executive editor of Soccer America, coaches youth soccer for East Bay United in Oakland, Calif. His youth soccer articles are archived at YouthSoccerFun.com.)
The Beginnings of Barcelona's Superstars
Tuesday, Jan. 25, 2011 / By Mike Woitalla
The world's three greatest players have a few things in common.
Lionel Messi, Andres Iniesta and Xavi all stand barely 5-foot-7 tall. They're teammates at Barcelona and they all came out of the club's youth program.
The trio finished tops in voting for the 2010 FIFA Ballon d'Or, the world player of the year award won by Messi.
2010 World Cup champs Iniesta (age 26) and Xavi (31) joined Barcelona at age 11 and 12, respectively. Messi (23) arrived from Argentina at age 13.
One person who had a close eye on all three of them during their youth days is Albert Benaiges, the coordinator of Barcelona's youth teams, which spawned seven players who played for Spain in its World Cup final win.
After the Ballon d'Or honors, Benaiges recalled his impressions of the trio in their early years.
"No one back then knew they would be world-class players," he told Germany's Kicker Magazine. "For sure, Messi's great talent was already apparent. Also in Iniesta and Xavi one saw early on that they offered something special -- or else we wouldn't have brought them in.
"But anyone who says that when he saw those three players at age 11, 12 and 13 he knew they were future superstars is a liar."
Benaiges says that it's at age 16 when they can predict if a boy might mature into a very good player.
"Before that age it's nearly impossible," he said.
Benaiges does recall that Messi was incredibly fast with the ball. That even at 11, Xavi almost never lost the ball. And that Iniesta was a sensitive, considerate boy - shy but always willing to help others.
Messi, during one year, played for teams at five different levels within the club - and never complained whether it was with the A team or C team - always giving his best.
Regarding the type of training Barcelona youth players receive:
"Technical skills we can improve up till the age of 13," Benaiges says. "But every pro was born a soccer player. Instinct and game intelligence we can't create. Both of those come within."
Asked what is trained, Benaiges responded: "Only technique and tactics, not fitness, which they can catch up on later."
The ball is the focus:
"The most important aspect of our program is always ball work. In all the exercises they do, whether it's physical preparation or any other kind of training, the ball is always there."
(Mike Woitalla, the executive editor of Soccer America, coaches youth soccer for East Bay United in Oakland, Calif. His youth soccer articles are archived at YouthSoccerFun.com.)