Fall, 2011
Yesterday was the women's Big Ten soccer tournament. Two girls from Cleveland Select /Ohio North were pitted against each other. McKenzie Taylor versus Kori Chapic; Illinois versus Penn State. Congratulation to our girls, for reaching that level.
Domi Marra and Harley Vossler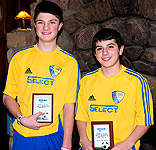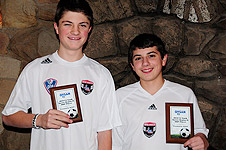 We are very proud of you boys. Domi Marra and Harley Vossler played soccer since they where 10 years old at Cleveland Select. - Today they developed to the level of region 2 Camp Players. Congratulations.
Players
Connor Gilmor - Region 2 Pool Player, US National Team Pool player
Collin Groneman - Region 2 Pool Player
Grant Baltes - Regional camp Pool Player
Blake Schach - Regional 2 Camp Player

Congratulation to all of our players that have made the ODP state Teams.
MacKenzie Taylor, Cheverine Caitlyn, Morgan Liber, Halle Baltes, Alex Baker, Nicole Teodore,Grant Baltes, Herts Weslesy, Jaffe Jacob, Caitlyn Rilley, Schaffer Brooks, Brittney Hirsch, Aly Plateck, Ryan Giust, Danny Wilhelm, Ben Lawrence, Tery Conlon, Erin Sheplevay, John Dusza, Cody Miller, Presley Hirsch, Shutkin Tall, Domi Mara, Brian Gero, Harley Vossler, Blake Schach, Cole Cannon.

College players: Ryan Giust - RTI, Tony Pletikosic, David Spotts - CASE, Danny Wilhelm - Wooster, Kyle Gissler - Bethony, Anthony Setecase - Baldin Walace, Kris Korb, Nick Halall.
Domi and Tall - State Cup Winners with CASA - U10 Boys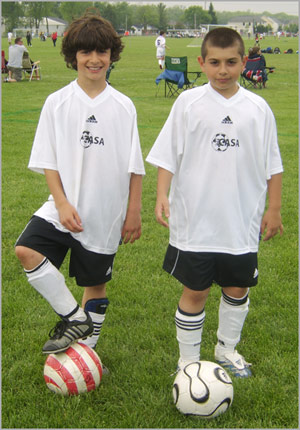 We are very proud of Domi's and Tall' achievements in the Ohio State Cup. Trough hard work and dedication they have reached a great level of achievement at an early Age. We are very happy to help them reach what they did. Looking fwd to help them progress on and off the Field.
Well-done boys.
Kori Chapic's Profile / United States U15 National Team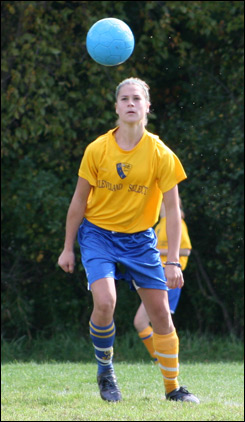 About me
- Age- 13 going on 14
- Birthday- December 21, 1992
- Grade- 8th
- School- West Geauga Middle School and later High school
- Family-4 Family members, 2 sisters (Kelsey and Kristen) Mom (Nancy) Dad (Joe)
- Animals- 1 Dog (Maxine) 2 cats (Miss Midnight, Felo)
- Hobbies-School, Soccer, Hanging out with my friends
- Sports I've played- Soccer, Basketball, Track, Softball, Karate (Brown Belt)
Favorite things
- Sport- Soccer Duh!!!
- Band- Dashboard Confessional, Imogen Heap
- Song(S)- Hide and seek, Speeding cars, Say goodnight and Go (Imogen Heap), Hands down(Dashboard Confessional), When the stars go Blue (Tim McGraw)
- TV show- Alias
- Color- Orange
- Movie- Too many to count
- Gadget- Ipod, computer, SOCCER BALL!!!!
- Subject in School- Math then science
- Comedian- Pablo Francisco, and Brian Reagan
- Animal- Cheetah, or Panther
- Month- November or December

Soccer History
I have a long history in soccer; it all started in second grade. My sisters above me played soccer too. Kristen, my oldest sister, didn't start until later. Kelsey, my older sister and the middle child, was really big in soccer and a fantastic goalie. My parents put me on a rec-council team and I loved it! It later extended to the west Geauga travel team. I played with that travel team all the way up until now. I always played one age group up and when I did with this travel team, they all went to high school while I was still stuck in middle school. Then I met this guy named Mike Hirsch. He introduced me to this other coach named Dani. I started to play on a premier team that was first called "Mayfield Select". Now, this same team is called Cleveland select and to this day I am still apart of it. I tried out for ODP and it has been the best experience of my life! I am traveling internationally and this is only the beginning! I am very excited for the future and what it has to bring. There are three things you can do give in, give up or give it your all. I choose to give it my all!
Kori In California again
U.S. U-15 Girls' National Team Comes To The HDC For Training Camp
CARSON, Calif. (May 7, 2007) - The U.S. Under-15 Girls' National Team will come together for a training camp from May 19-25 at The Home Depot Center in Carson, Calif.
U.S. head coach Tad Bobak has called in 24 players to the camp, all born in 1992, as the youngest of the USA's five youth national teams holds its second training camp of 2007. Bobak may add one or two more players to the roster before camp commences.
The U-15s will get a chance to watch the full Women's National Team train as head coach Greg Ryan's squad are in Residency Training Camp from May 21-31 before going on a break.